Luxurious Web Design Knowledge Base
Thank you for choosing Luxurious Web Design. We would like to first welcome you to Luxurious Web Designs Knowledge Base. This area is exclusive to our clients to serve as point of reference to fully understand the web design process & our services. We strive to ensure our customers are fully educated about all services and processes, so they are able to leverage all resources and increase business performance. As a knowledge base, this is only a pre-requisite to understanding the full web design experience. We encourage persistent engagement and communications with all of our clientele to fully understand your business needs.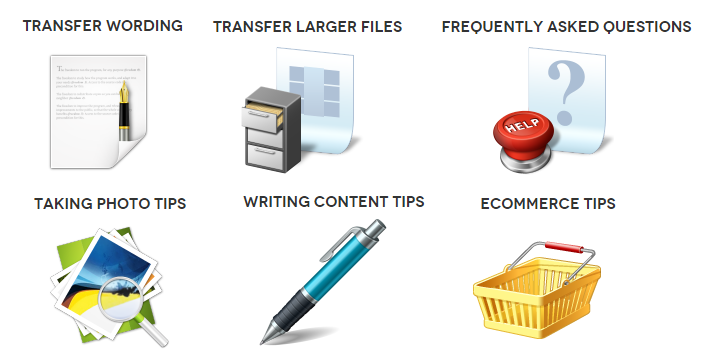 Selecting Your Website Domain Name
You will fist need a domain name. This is what you type into the URL box to go to your website or any website. It's a
unique location directing users to your website location. Examples include: www.google.com or www.yournewwebsite.net or www.yournewwebsite.org
Every domain name has a suffix that indicates which top level domain (TLD) it belongs to. There are only a limited
number of such domains. For example:

Registering your domain with a specific extension emits a different online presence to web surfers. For example, yoursite.com is a generic domain but yoursite.biz will straightaway tell your audience that you're doing business. However, there are no hard and fast rules on which one you should use. Basically, it's up to you.
Domain Name Availability
You can check if a domain name is available by visiting GoDaddy's Website, and continuously checking a variety of domain names to see if they are available.
Website Hosting
You need a place to host your website i.e. this is where your site is located and where users will go to visit your web page and its content (information, pictures, videos, products etc.). Your hosting is allowing you to have website content online and there is an affiliated cost because you are storing your content using a company's storage location.
Really Good Example: You want to put your belongings in a storage unit. You will pay the storage company for storing your belongings there, and the more storage you want the more you pay i.e. 50 square feet of storage space would be more than 20 square feet of storage space. The same thing applies for a website. 100GB of storage will be more than 50GB of storage. No worries though, Luxurious Web Design can help you decide which hosting plan is best.

Website Hosting Providers
A web hosting service is a type of Internet Hosting Service that allows individuals and organizations to make their own website accessible via the World Wide Web. Web hosts are companies that provide space on a server they own or lease for use by their clients. There are many website hosting providers, such as: GoDaddy.com, Network Solutions, Wix.com, webs.com, etc. Another way to look at hosting providers is as a, storage provider.

Website Hosting Cost
Website hosting ranges in pricing depending on the amount of storage needed for a website, storage may range 500 MB to Unlimited. One client may only need 500MB for a small portfolio and someone else may need unlimited for a very large online store. Hosting pricing is also contingent on: database requirements, email accounts, domain needs, and add-on applications. Pricing is always subject to change, which is why we work with our customers to provide the best rates dependent on needs. Average pricing ranges $30 – $80 per year.
Transfer Your Website Wording
Text transfer can be easier primarily because website text documents / files are typically smaller in size compared to
additional website content comprised of pictures, videos etc.
Below are the (2) ways we recommend to send us the text you need on your website.
1) Microsoft Word Document / Notepad / Document Writing or Note Taking Oriented Program
a. Send your text in a document, and label which page each section of text should be included in
Ex: Home Page: This is the home page, this is the section I will place the home page info
Ex: About Page: This is the about us page, this is the section I will place the about us info

2) Copy Information from Existing Website / Existing Webpage
a. Send your website(s) / webpage(s) links to us and inform inform if we should copy content from certain pages
Note: We do not recommend that our designers copy photos from existing websites. The resolution could have been changed and/or picture distortion could have transferred as original edits may have been resized and/or edited. Please see the process for image transfer.
3) eCommerce Wording (For eCommerce / Store Websites Only)
a. Provide (Product Name, Product Description, + Additional Description, and Categories for the Product)
b. Provide Pricing for the Product (Product Name & Price) or for Variations (Product Name, Variation Ex. Small = $10, Medium = $15); Please feel free to use Excel spreadsheets for more complex variations. Example is listed below. (You can also include inventory as well if we agreed to load this in for you)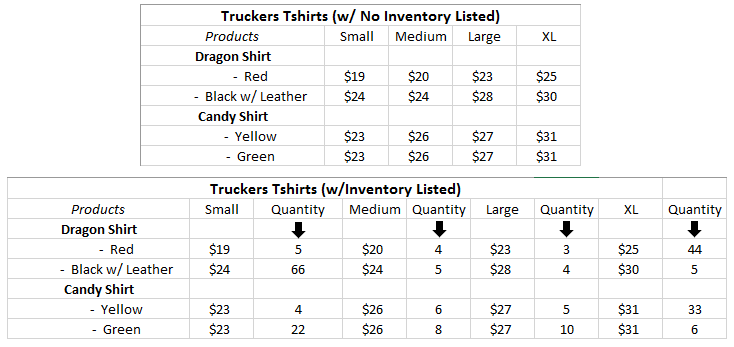 Transfer Larger Files
Larger file transfer would seem rather difficult to use, hence the most common file exchange platform being email, restricts the common user from sending larger sized files simultaneously. Although, Luxurious Web Design's Research and Development team has provided us with a list of FREE Secured Providers to deliver to our clients.
Image and Video Tips: We recommend sending the original copy or highest resolution you have of your photo(s)/video(s). This is to ensure that only the highest quality of images and photos are put on the website.
1) Compressed Zipped Folder

2) List of FREE Service Providers
a. Google Drive (Preferred): https://www.google.com/drive/
b. Drop Box: https://www.dropbox.com/ 


c. We Transfer: https://www.wetransfer.com/ 


d. Send This File: http://www.sendthisfile.com/ 

 3) Organizing Media (You do not have to do this)
a. If you need us to put certain photos on certain pages: Name the photo and then put – Page Name. Example: Red Car – Home Page.jpg OR for specific areas Blue Car – Home Page Banner.jpg
b. If you have a store: Name the photo the name of the product. Example: Dragon Lady T-Shirt. For more than one photo of the product, name the first image for the primary image and the rest could be numbers. Example: Dragon Lady T-Shirt (Primary).jpg, Dragon Lady T-Shirt 2.jpg, Dragon Lady T-Shirt 3.jpg
Best Tips on Taking Photos
Taking photos can be extremely hard at times because: you may not have the best camera, aren't familiar with the correct camera setting to use, may not be able to get certain angles, or one of the biggest issues, capturing shots using the correct lighting.

A Few Pointers To Remember Before You Begin Taking Photos
Lighting is Everything – Try taking Photos Using Flash and Without Flash, Using Natural Light and Using Inside Lights, In Lighter Backgrounds and with Darker Backgrounds
Take Some Close Up Photos – Many people will zoom in on a photo – Especially a Product – therefore try to take a few close up shots so the camera captures greater details
Different Angles – Taking 10 of the same shot is not always necessary, capturing different angles and a 360 degree view will show the picture from many viewpoints
Backgrounds – Always attempt to take products in a White/Clear Background
Take A lot of Photos – Taking a lot of photos will only give you tons of different options to choose from when it's time to select your website images
You May Need to Hire Someone – Spending the $ to hire someone may not be in the plan, but it may be necessary so you get high quality pictures
Writing Content For Your Website
Writing content for your website isn't quite the same as writing content about every facet of your business. You should include on your website specific information and in a particular format.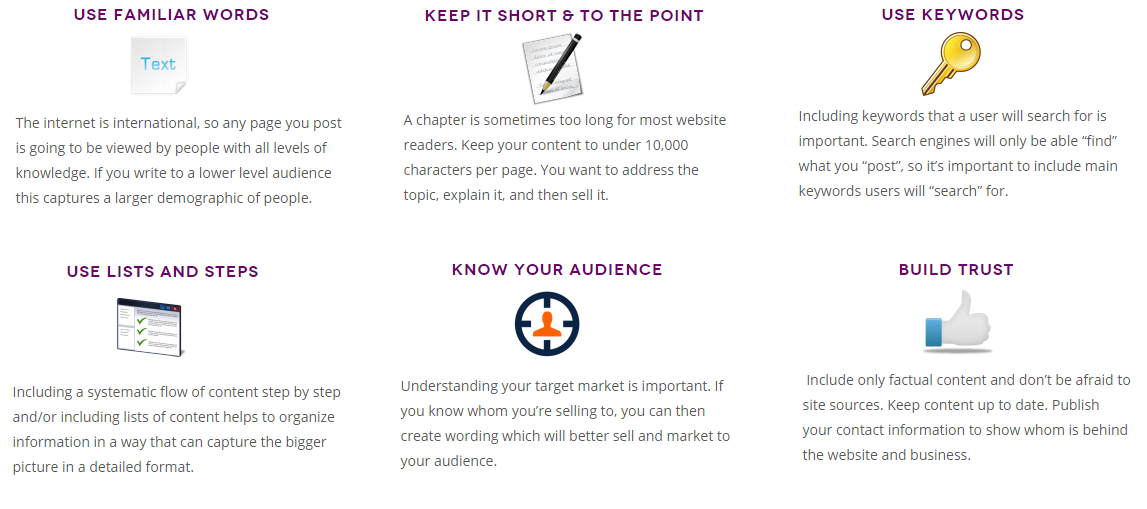 Content Ideas For Pages on Your Website
We understand that sometimes you are unsure about the content you need for your website, but below we have compiled a list of ideas for pages that may assist you with gathering content.
Informational Website / Website Pages
Home Page: Introductory Page Content (Intro to Primary Services/Important Info/Promotions/Summary)
About Page: History, Bio, Vision, Mission, Values
Team Page: Team Members, Member Description/Bio, Links to Social Media or Resume
Services Page: Services Offered (Descriptions, Pictures, Prices)
Processes Page: Start to Finish Process, How To Get Started
Portfolio/Photo Gallery Page: Pictures of Work, Business, Links to Work, Provide Work
Reviews/Testimonials Page: Customer Feedback (Internal to Website) or External (Yelp.com, Google Reviews, etc.)
Affiliations: Past Clients, Current Clients, Charitable Contributions
FAQs Page: Frequently Asked Questions, Policies (Cancellation, Refund, Reimbursement)
Contact Page: Address,  Location Instructions, Email, Phone Number, Hours of Operation (Include Time Zone)
External Links: Facebook, Twitter, Instagram, LinkedIn, Pinterest, Google+, etc.
+eCommerce Website Pages
Store Page: Product Information, Specifications, Features, Pictures
Documents: Shipping Policy, Refund Policy, Reimbursement Policy
+Additional Functionality (Provide Needed Functionality)
Membership Functionality
Database Requirements
Blog
Additional Forms/Sign Ups
Custom Coding
Tips for Your eCommerce Store
Having an eCommerce Store is probably one of the most exciting businesses to have. You're opening another communication channel and have the ability to to see your products and services purchased virtually online. There are a few tips and pointers that can although assist with this lineage of business.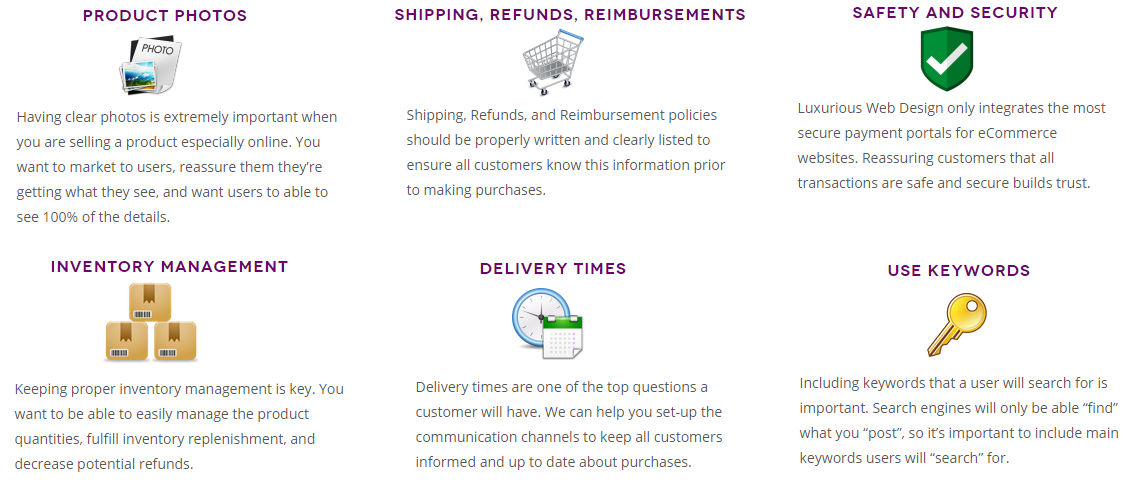 Application Development Tips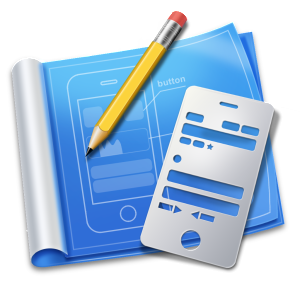 Application Development can seem rather complex, but we can help make it easier. When you have an idea, we can identify the key necessities for developing and then having your app live in the app store. Even if you do know the ins and outs of the needed functionality and full scope, we'll do a full assessment of your project to make sure everything is fully defined and planned prior to execution.
Planning Suggestions

Define the goals of your app (entertainment, productivity, make a profit $, resale of the app)
Write down as many details as you can about the applications functionality
Identify how you want the application to look in terms of an interface
Find applications which have similar functionality and/or present a look you enjoy
If you don't know about functionality or design — no worries…We can do this for you!
Learn About the App Store

Take the time to learn about what is takes to Launch in the App Store!
Ongoing Maintenance Tips

Contact Us often to ensure that as phones update your apps are still compatible & function
Add additional functionality and/or new content to your application
Update your applications functionality if there are bugs/errors
Redesign the applications user interface to be more user friendly
Update and upgrade your existing applications
What We Can Provide

Assistance with identifying application goals (informational, resale, profit from marketing)
Application process — what a user can do start to finish, and through settings/customization
Statement of Work (SOW) including your full scope + schedule + timeline, budget, etc.
Testing of your application to eliminate delays, bugs, and errors
Publishing into the app store and approval process
We can manage the entire process 100% from start to finish

Utilizing Social Media Is Important
Social media is external to a website, but is another way to connect with people on a daily basis. The customers might not visit your website every day, but will probably will login to check some form of social media, so why not communicate with them there.

Creation Is the First Step -Starting an account will begin to establish the social media presence
Attractiveness – Did you know having an attractive social media page can also help your business flourish? If someone feels the page is outdated and/or doesn't have the wow factor, it might not capture your audience. Having the correct information, banner, and profile icon could make all of the difference.
Frequency of Posts – The more you post, the more customers and/or fans can view what your business has to offer. Too many posts can be overwhelming and duplicate posts can be redundant, and ignored.
Different Posts – Diverse posts will shed light on the different aspects of your business. Posting a new product/service, an upcoming sale, and/or an opportunity to save money are all good categories for posts.
Feedback – Asking clients for feedback can sometimes be a tad bit scary for some, hence there might not be 100% positivity, but asking shows you care about your customers and the feedback may help your business grow.
Promotion – Promoting your social media page is very important. If you frequently post information on the page, and/or intend to, having your target market viewing what you share is pertinent.
Search Engine Optimization
There is a requirement to market your business online, not only through search engine optimization, but through many internet outlets. This can include: email marketing, Facebook, Twitter, and many other tools. Regardless of your target market, we can assist you with increasing your online visibility, conversions, and repeat traffic.

Content is king, so be sure to have good, well-written, and unique content that will focus on your primary keywords or keyword phrase. Use keywords and keyword phrases appropriately in text links, image ALT attributes and even your domain name.
Keywords don't guarantee you'll rank highly. Search engine optimization is vested in marketing. If you market your business and use your website as a tool, you'll be more successful then just listing keywords and submitting to a search engine.
Write a unique, descriptive meta description for every page. Within 160 characters you need to describe the topic of a page in a way that persuades people to click on your site instead of the other sites listed in the search results.
Fresh content can help improve your rankings. Add new, useful content to your pages on a regular basis. Content freshness adds relevancy to your site in the eyes of the search engines.
Know your market. If you don't know whom you're marketing to, how do you create a marketing strategy online to gain further sales and/or leads. Prioritizing people is important.
Business Consistency, affects your marketing, short term & long term outputs, popularity and, thus, your ranking.
Maintaining Your Website and Making Routine Updates
Your website should be maintained to include the most accurate and up to date information. Your website is a reflection of your business, so why not have the best image presented. Website updates and redesigns are sometimes necessary to have a cleaner or different appearance, as well to include the newest functionality.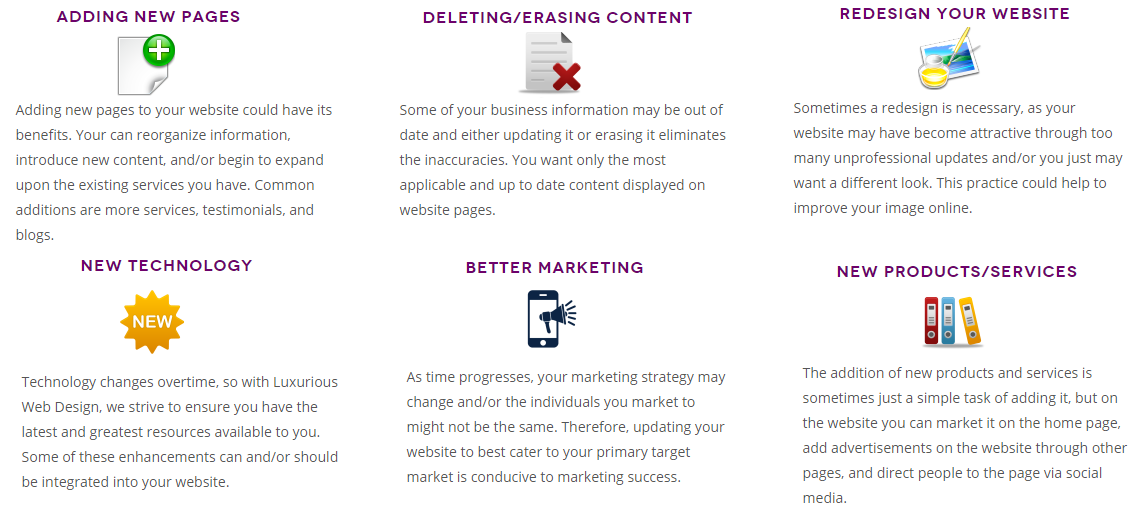 Frequently Asked Questions via Our Clients
We have attempted to list several questions our clients have in a Q & A format. If you have any further questions, comments. concerns, or general inquiries, please do not hesitate to ask us.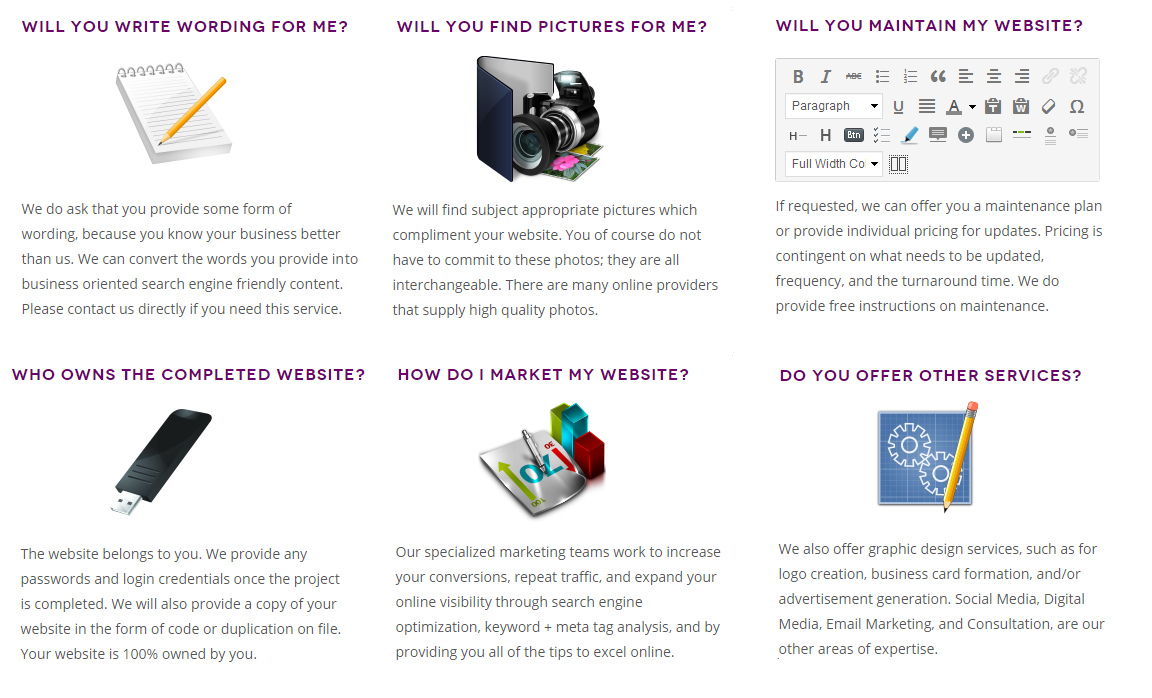 Additional Services
Luxurious Web Design is doesn't only specialize in web development. There are other essential online solutions that we offer each of our clients to ensure growth and advancement. Through technology and strategy we align to see the betterment of people and businesses through the utilization of our services.